Thankfully, the answer is YES!
Back in early 2018, we wrote about the rollout of Version 68 of the Chrome browser planned for July 2018 when all web pages not served over SSL were going to start getting flagged as "Not secure".

Besides an impact on the organisation's credibility, a big push for businesses to switch to HTTPS sooner rather than later was due to the potential loss of traffic from Google given that the search engine giant has been known to consider HTTPS as a ranking signal.
According to security researcher Scott Helme's excellent analysis of the Alexa Top 1 Million sites for February 2019, there has been a whopping 12.9% jump in websites serving solely over HTTPS from 51.78% in August 2018 to 58.44% in February 2019.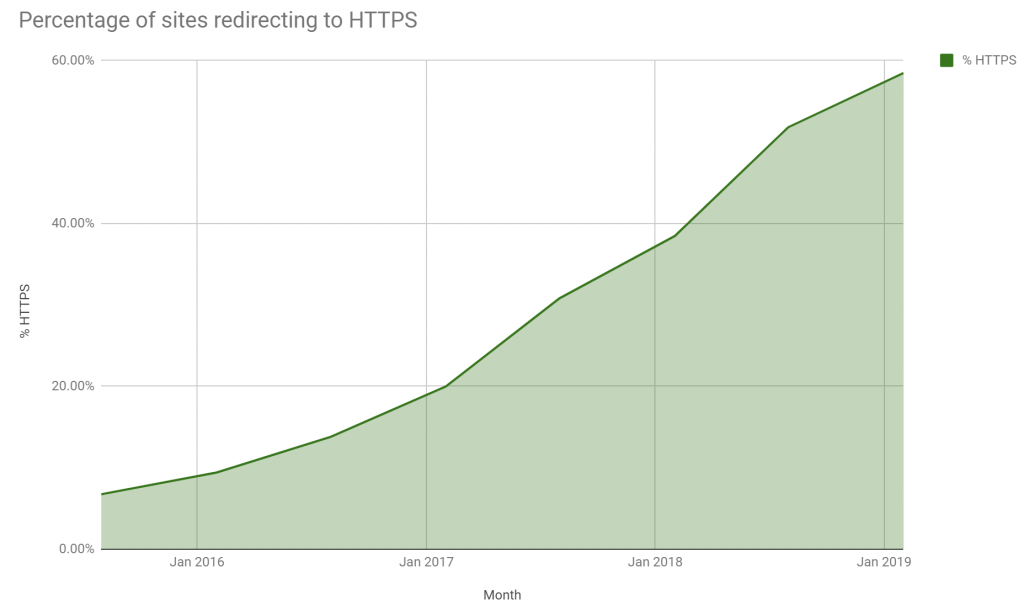 Source: scotthelme.co.uk
Close to 60% of the top 1 million sites in Alexa are now serving over HTTPS. This is significant given the figure was only 38% back in February 2018. Click To Tweet
Source: scotthelme.co.uk
Besides website owners taking serious note of the Chrome update, what has also contributed positively to the uptake is the reduced cost (read zero) of SSL certificates offered by Certification Authorities like Let's Encrypt.
The flip side here though is that more than 40% of the top 1 million sites are STILL NOT enforcing HTTPS including big names like ESPN.com and MIT.edu. It will be interesting to see what the trend looks like in 6 months time.
If your business hasn't made the switch yet and you would like a free no-obligation high-level migration readiness analysis of your website, feel free to get in touch below.
HTTPS Migration Readiness Analysis
Venks is a technology specialist with 17+ years of experience across the web technology spectrum in domains including Media, Mobile Advertising, Mobile Content & Billing and Online Gaming. His current mission at BroadWeb Solutions is to bring the benefits of digital advances in technology to small-to-medium-sized businesses.